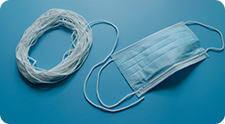 Round elastic bands is kind of rubber band braided of polyester threads and spandex threads, it's a common mask material which is used for surgical masks and food masks.
More than 160 sets production equipment which are specially for masks & respirators elastic band producing.
Exclusive formulation in the industry
Cooperating with many large-scale manuafacturers, with years of experience

All form fields are required.